IVX-E Class
Simply the best telephone system for your business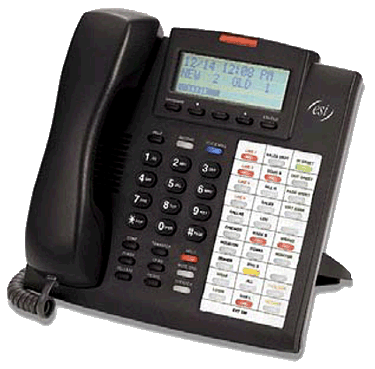 ESI's IVX E-Class system has the capacity, intelligence, and expandability to handle your communications needs - today and for years to come. Take just a few moments to see how much an IVX system from ESI can do for your business. Then, for more details, consult Pritchett Communications your Certified ESI Reseller.
The all-in-one telephone system
The patented ESI IVX E-Class design means all vital business communications features you need are built in — not added on. The IVX E-Class includes:
A highly advanced, expandable phone system with extensive and unique call-handling features
A superior-quality voice mail system with exceptional features and messaging options
A multi-level, highly customizable automated attendant for call routing
Automated call distribution to maximize your callers' convenience
Optional VoIP Telephony to connect remote locations as one system
Grows with your business — intelligently
Whether you have many outside lines and large numbers of users or just a handful of each, IVX's modular, flexible design grows with your business. The IVX E-Class supports up to 66 phone lines and up to 84 ESI Feature Phones. Because of IVX's intelligent design, ESI's patented built-in voice mail capability doesn't subtract from this total. IVX maximizes both call-handling capacity and voice mail storage capacity. As your communications needs grow, you can easily and inexpensively add lines (including high-capacity broadband), phones and special options if and when you need them.
Help at the press of a key
ESI's comprehensive Verbal User Guide™ makes IVX the easiest business phone system you've ever used. Just press the HELP key and the interactive, Verbal User's Guide even provides a complete tutorial - along with a friendly "Good morning."
Built-in voice mail
Improve your business communication with ESI's integrated voice mail. Easily accessible by using the distinctive blue VOICE MAIL key on the Digital Feature Phone, ESI's fifth-generation technology offers up to 16 simultaneously available channels of voice mail - as well as more than 200 mailboxes and up to 280 hours of voice message storage. With ESI's exclusive Virtual Mailbox™ and other unique features, you can easily customize IVX's voice mail for your special applications.